Specifications
Transparent Colored Plastic Sheets
1. ISO9001 proved
2. Size can be customized
3. Good impact resistance
.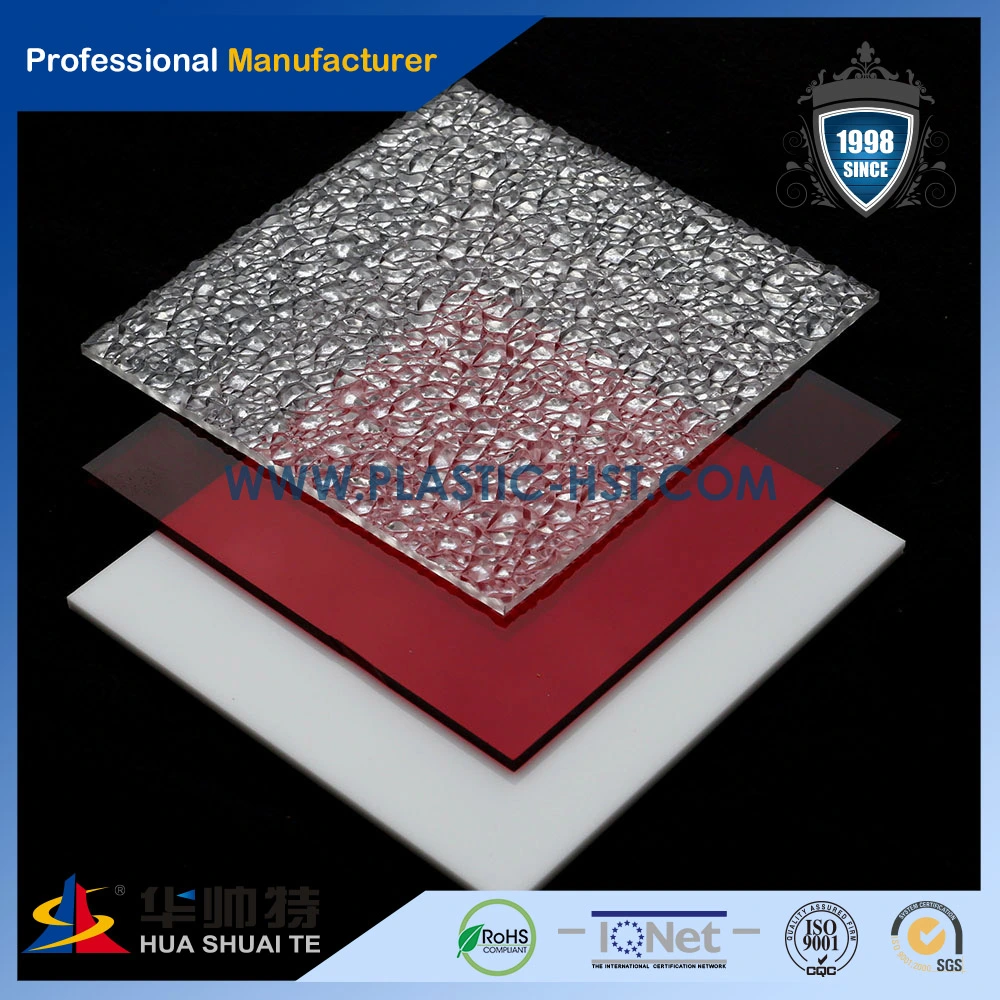 Features of Transparent Colored Plastic Sheets
1. Light transmission
Colored Plastic Sheets has very good light transmission. Prolonged sun exposure of UV coated plate does not produce yellowing, fogging and poor light. The loss of light transmittance is 6% for embossed sheet and 15%-20% for PVC after ten years. As light through its convex particles produces light scattering, it has good optical effect. For more information about light transmission, please feel free to contact us.
2. Anti-UV & Heat Insulation
UV protective layer, 98% UV absorbed.
3. Light weight, high impact strength,excellent physical and mechanical properties and well bending performance
The mechanical properties of pc embossed sheet are consistent with pc solid sheet. Maintaining good impact resistance for a long time in a wide temperature range (-40 °C -120 °C).
4. Fire retardation
The sheet meets the national standard GB8624-1997 and ranks at B1 retardant material level. In the process of combustion, the sheet does not produce any smoke and toxic gases, and automatically turns off from the fire. It has good fire retardant properties.
5.Wide-ranging application, good weather-resistance
Maintaining the stability of mechanical properties between -40°C to +100°C, the sheet does not occur the cold crisp above -100 ° C and without softening below 145 °C. Small size change from 100 ° C to -40 ° C, the rate of change is ≤ 0.3%. 2000 hours of artificial aging test towards the sheet, the yellowing degree was grade 2, and the transmission rate was decreased by 0.6%.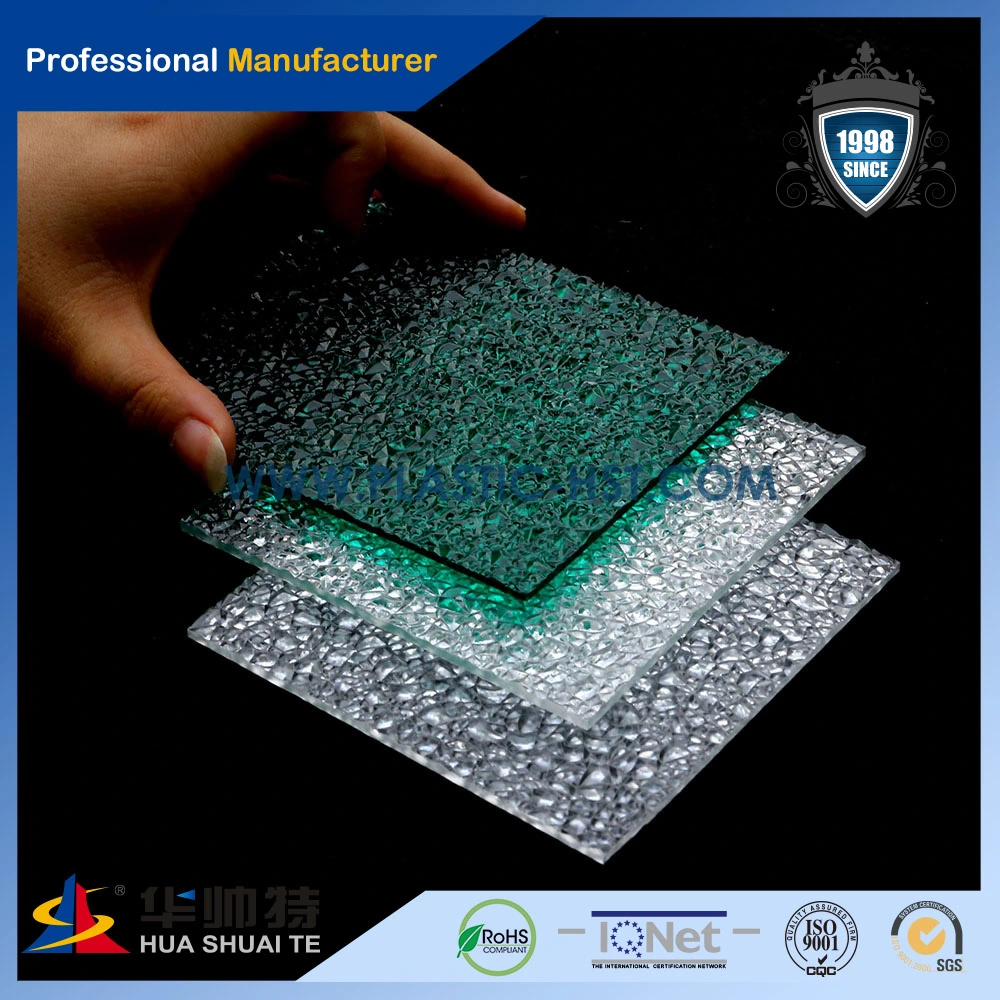 6. Soundproof
The sheet can effectively reduce the noise, and is the best choice for soundproof.
7. Convenience for transportation and construction
Light weight, standard size, convenient transportation & construction, easy cutting and punching, cold bent and good processing performance.
8. Condensation inhibition
Under normal circumstances, when the outdoor temperature is 0°C, room temperature is 23 °C and the indoor relative humidity is below 80%, the inner surface of the material does not frost.
9. Chemical resistance
The Sheet can resist various kinds of harmful corrosive materials, such as organic acid, inorganic acid, vegetable oil, neutral salt solution, aliphatic hydrocarbon and alcohol, etc.
Storage, transportation and usage
Prohibit contact with wet cement surface and acid, alkaline material surfaces.
Prohibit contact with organic solvents and glue, paint composed thereof.
Keep the frame clean and the surface of rabbet groove flat. Dust and dirt of the sheet are generally wiped by soft cloth or sponge with mild detergent first and then washed by water thoroughly.
Choose the right thickness, allow flexure radius.
If use self drilling screws for fixing, the hole must be pre-drilled, and the aperture should be 1.5 times larger than the diameter of the screw. Do not tighten the screw strongly, otherwise stress will arise, and crack on the sheet surface will appear.
Remain space for expanding, pay attention to inserting depth. Expanding Value = linear expansion coefficient × length × the maximum temperature variation (linear expansion coefficient of pc sheet is 7×10-5mm/mm/°C).
Use neutral glass cement and right gasket. Never use gasket of PVC material.
Use electrical tools (tungsten carbide saw) to cut, stabilize PC sheet to prevent their vibration. Don't peel off protective film when cutting.
In case that marks have to be made before cutting, try to mark on protective film. If the marks must be made directly on PC sheets, use wax crayon instead of any sharp tool to mark.
| | |
| --- | --- |
| Item name | pc embossed sheet |
| Packaging | PE film |
| MOQ | 3 tons |
| Delivery time | Within 20 workdays |
| Certification | ISO9001 |
| Color & OEM | As your requirement, all kinds of color are avaible. OEM are welcome. |
| Shipping Terms | FOB/CRF/CIF |
| Payment Terms | T/T 30% desposite.70% at sight of B/L copy |
| HS Code | 3921610000 |