Supermarket grocery Plastic Shopping Trolley Cart
Plastic shopping trolley
MODEL: HBE-P-3
1. Material: Durable plastic
2. Size(L*W*H): 105X59X104cm
3. Base Pipe size: Ø 25mm, Thickness=2.0mm
4. Baby seat: Max 15kg
5. Surface: Zincplated+transparentpowdercoated
6. Logo: Yourlogocanbeprintedontheplastichandle and 3 logo block
7. Loading capacity: 200kgs
8. Castor: Diameter = 5 inches PU castor
9. Capacity: 180L
Customer preferredlighter, easier to push and un-nest.
Plastic causes less damage to store fixtures and automobiles.
Cart width fits most aisles while maintaining maximum shopping capacity.
Excellent vision into cart allows checkers to see all merchandise.
Chassis is powder coated finish.
Chassis is made of oval tubing for strength.
We also have other type of models:
* HBE-P-1: 880X470X940mm 100L
* HBE-P-2: 920X520X1010mm 120L
* HBE-P-4: 1050X590X1040mm 180L
* HBE-P-5: 1040X560X1010mm 180L
Welcome your inquiry!
| | | |
| --- | --- | --- |
| Model | Capacity | Size |
| HBE-P-1 | 100L | 880X510X940mm |
| HBE-P-2 | 120L | 920X520X1010mm |
| HBE-P-3 | 150L | 990X550X1050mm |
| HBE-P-4 | 180L | 1050X590X1040mm |
| HBE-P-5 | 180L | 1040X560X1010mm |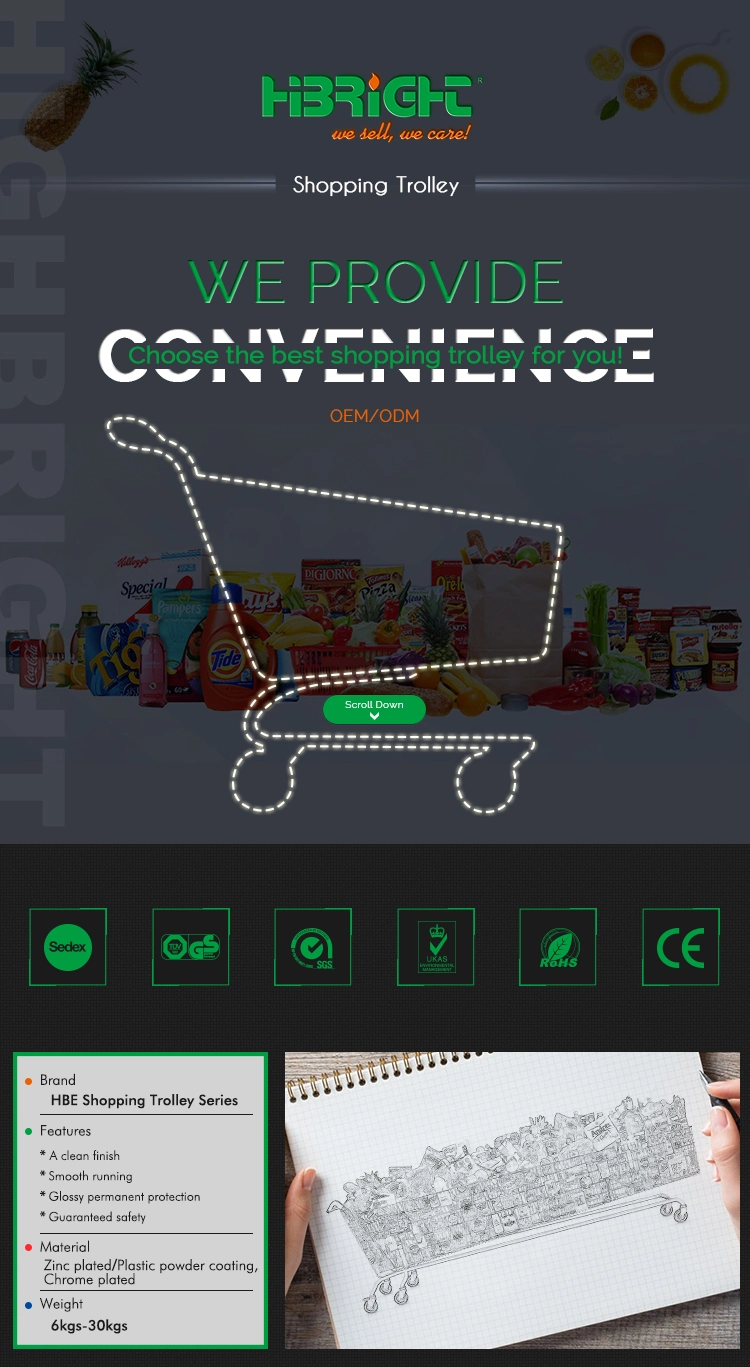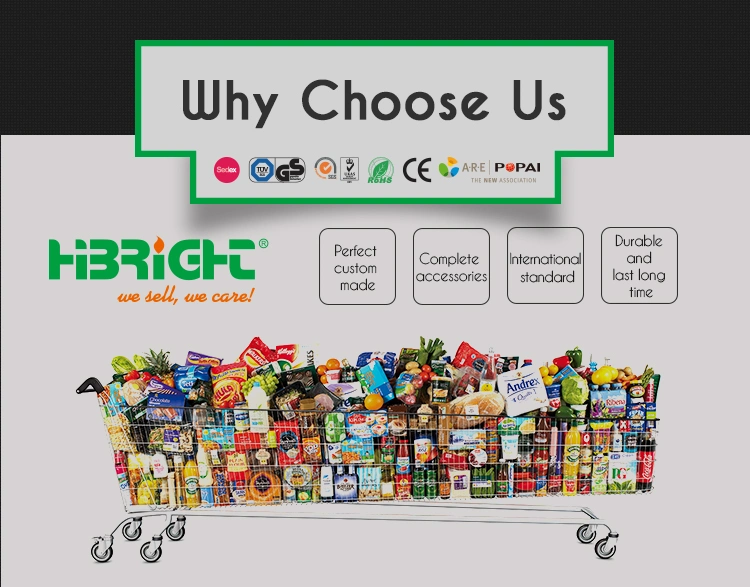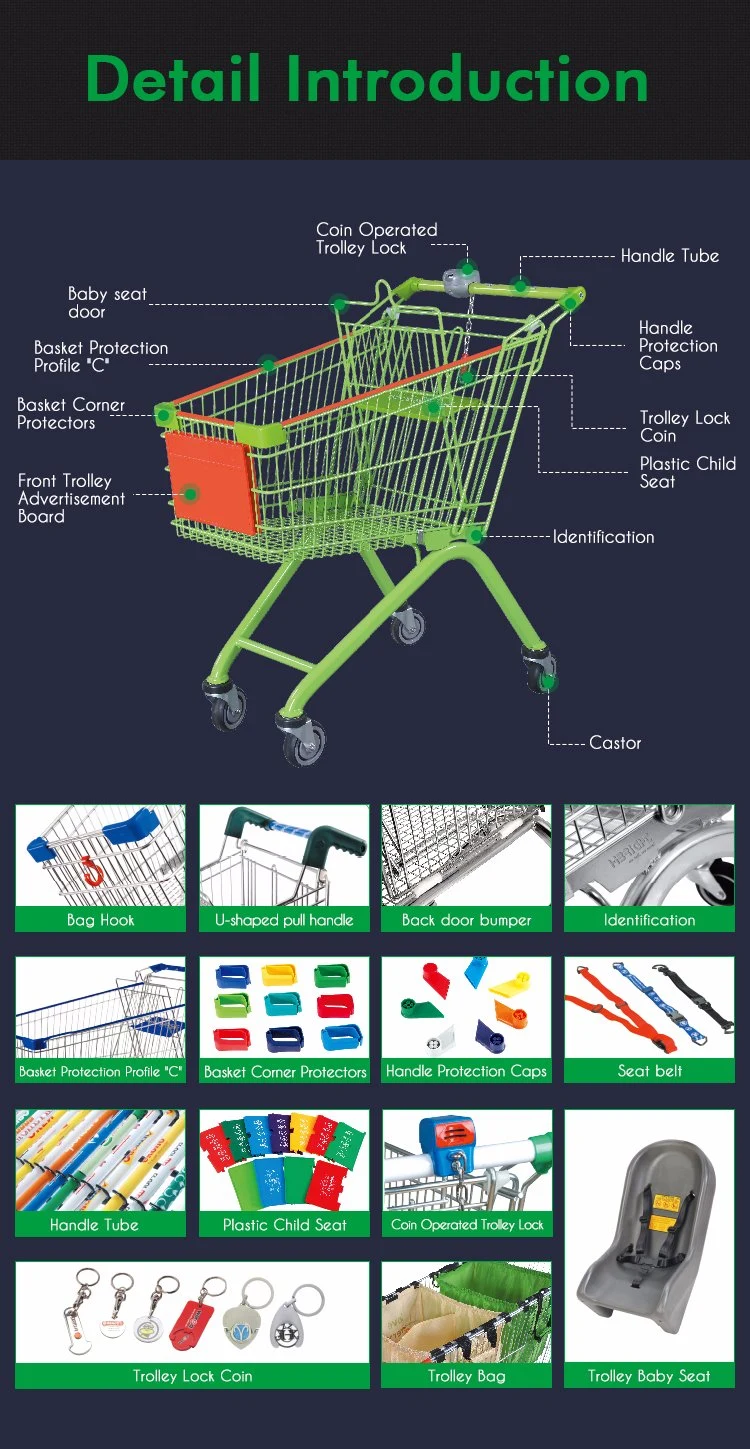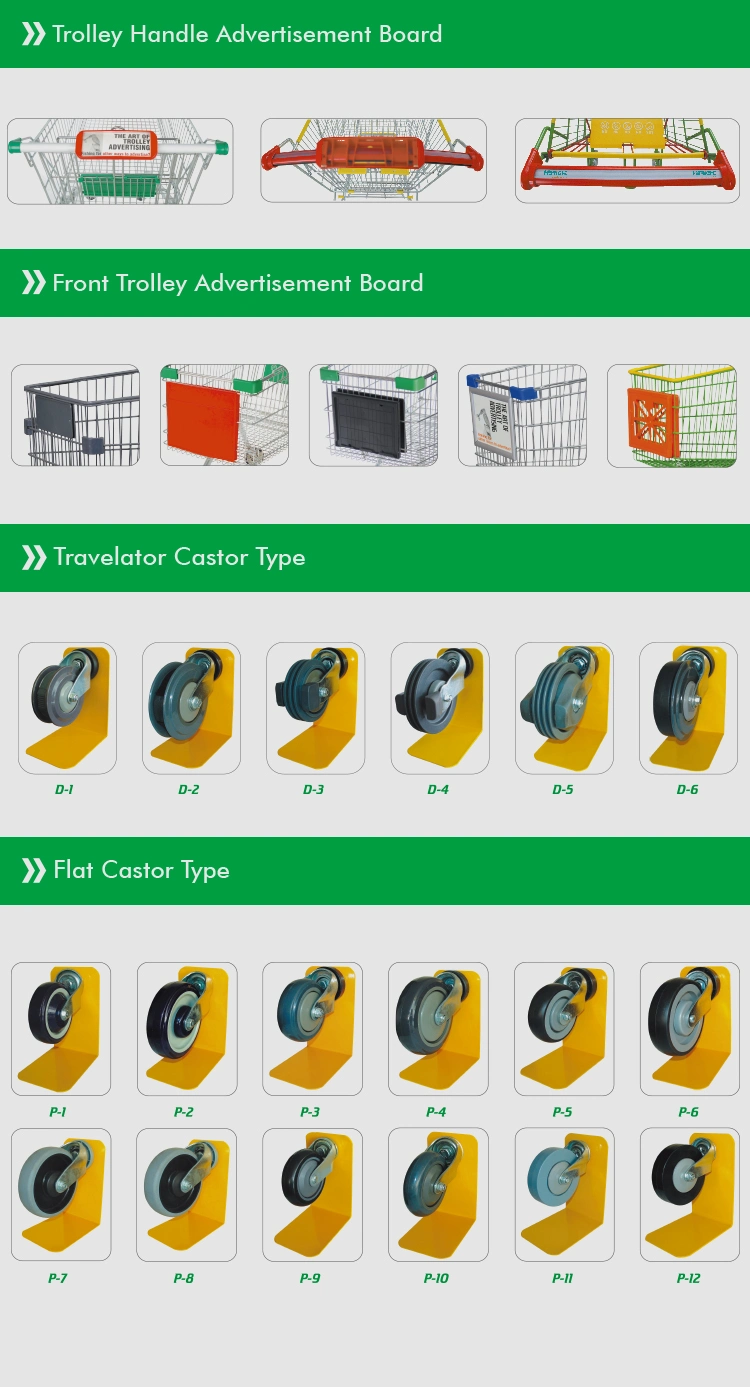 About Highbright:
Highbright Enterprise Limited was founded in year 2004 and locate in JiangSu, China. Mainly design and manufacture retail equipments.
Products include various shopping trolleys, shopping baskets, warehouse trolleys, foldable shopping carts, checkout counters, store fixtures, shop fittings, display shelves etc.
With production capacity of ten containers per week, we have cooperated with big chain supermarkets and retailers in Europe, North Amercia, South America, Australia etc. When dealing in these various products fields, HIGHBRIGHT not only offer existing styles, but also customize special unique design with our professional technique team.
With us as your partner, you'll be well prepared to cope with any future changes. That's because we've never react to trends, but instead we've actively helped to mould them with our numerous developments.